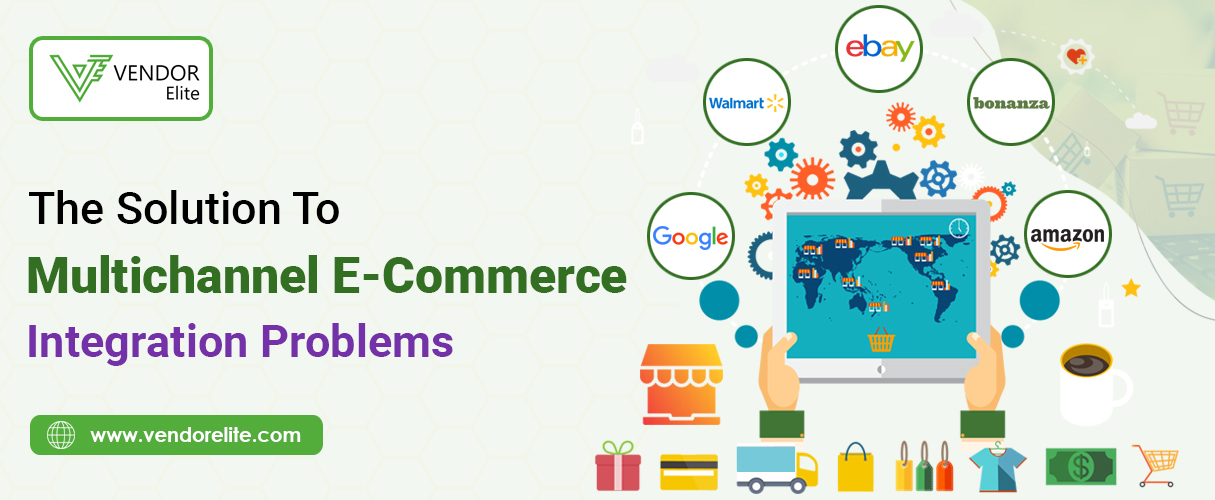 The urge to diversify has never been as strong as it is now. Using just one main channel like Amazon may be good enough for most sellers. However, the seller who wants to stand out must learn to diversify across multiple markets. This diversification aims to help you reach a larger audience which translates into a wider range of customers as and increasing sales. It is very important for revenue growth and this is why an enterprising seller shouldn't be limited to one marketplace. This is the advantage of diversifying.
The disadvantage of diversifying is creating and maintaining your brand's uniqueness across all multiple channels requires a lot more work and investment. Creating a consistent presence on all channels you trade on is vital and there lies the problem… how do you create a consistently unique presence on many channels in such a way that your different customers from different channels have the same experience?
You can do it manually. This will require you to employ a large number of employees. Even with the manpower available, creating unified customer experience across all channels will take a lot of time. Instead of the manual tedious method, you can use VendorElite;  a complete multi-channel integrative platform for e-commerce.
A multi-channel integrative platform automates product listing across all channels. This means that product data and descriptions can be put up in one place and automatically updated on all your marketing channels. A good platform should cover all the following;
Product description.
Enable uploading of bulk images.
Automated inventory updates.
Enable sellers to manage business across all channels.
VendorElite does all these and even more. This is why if you are considering diversifying across multiple channels, you should use VendorElite.
VendorElite enables e-commerce brands and retailers to list and sell products effectively and effortlessly across multiple channels and still retain central control over inventory management and order fulfillment. With a simple interface that makes it easy to operate for people without much technical knowledge, VendorElite is a powerful solution for multi-channel sales. The tools and automation available simplify listing and prevent overselling.
Features Of VendorElite:
1. E-commerce Integration: VendorElite comes with ready-made integration for you. All you need to do is type your store credentials in and just like that, you are set up. This way, you can easily list your inventory on multiple channels to reach more customers. The ready-made integrated channels make it quick to set up and easy to use.
2. Inventory Management: The major advantage of using multi-channel integrative software is the fact that inventory management is centralized and easier.  VendorElite does this by doing the following;
Keeping accurate inventory across all channels.
Base SKUs are easily changed and linked via aliases to different SKU codes for the same products on different marketplaces. This ensures that sales can be linked and tracked. Hence, making centralized control much easier.
There are buffers set in place to prevent overselling of stocks. By automatically synchronizing all inventory quantities ordered across all multiple channels in a quick manner, VendorElite prevents overselling of stocks.
3. Orders Are Processed From One Dashboard: Since all the channels are synchronized, VendorElite empowers you to control orders from all channels on a centralized dashboard. There is one more exceptional thing to show you. VendorElite combines all orders from the same customer automatically even if the orders are made from different marketplaces. This makes it easy to ship orders to the customer in an organized fashion. It also tracks orders accurately regardless of the marketplace.
4. Smart Order Manager: This function is based on preset capacity and pack quantity. It manages supplier discounts and exchange rates. It also updates individual product suppliers coupled with regular inventory check-in.
5. Shipping Manager: This tool has pre-integrated courier partners such as FedEx, DHL, UPS, and stamps.com that make shipping management easier. This makes shipping of products to buyers easier. All you need to do is add your credentials and everything is set. This tool will automatically search for the best rates on any of the courier partners. Shipping labels are always made available for reprinting and this tool also makes it easy to delete shipping labels. With this tool, you do not need any other costly shipping app.
6. Creates Scannable Individual or Bulk Order Invoices And Shipping Labels For Easy Order Fulfillment: Order fulfillment is one important aspect of e-commerce that must not be treated lightly. VendorElite helps you fulfill an order by making it possible to scan the order number from the form and the product to be shipped to ensure that it is the same product ordered by the buyer. Then, it also ensures that the product is shipped to the right location. Hence, creating a seamless experience for both the buyer and the seller.
7. VendorElite has a warehouse management tool for keeping accurate inventory.
8.  Price Manager: This tool helps in accurately calculating the cost and price of products whether in bulk or individually. It has preset variables that aid in calculating the prices of goods. Variables such as price, exchange rate, and shipping costs are taken into consideration. There is also an automatic price update once there are changes in any of the variables considered.
Pricing:
VendorElite is cheap and affordable for businesses of any scale. Pricing is done per order on VendorElite. In addition to this, VendorElite doesn't make any charges on your first 30 orders per month.
Every month you get 30 orders free. Only after your first 30 orders will VendorElite begin to charge you $0.08 per order.
VendorElite is available on Amazon, Bonanza, Google, eBay, Walmart, Newegg, and Yahoo.
TAGS: Best Multi-Channel Listing Software Solutions For Ecommerce Sellers, ECommerce Management Solution, ECommerce Product Management, Best ECommerce Software, Multi-Channel Selling Software, Sell on Multiple Sites Fast, Free Shipping Software, Selling Products, eCommerce Shop, Multi-Channel eCommerce Inventory Management Software, Product Listing Store, Free Multi-Vendor Software for eCommerce, Multichannel Marketplace Free Software