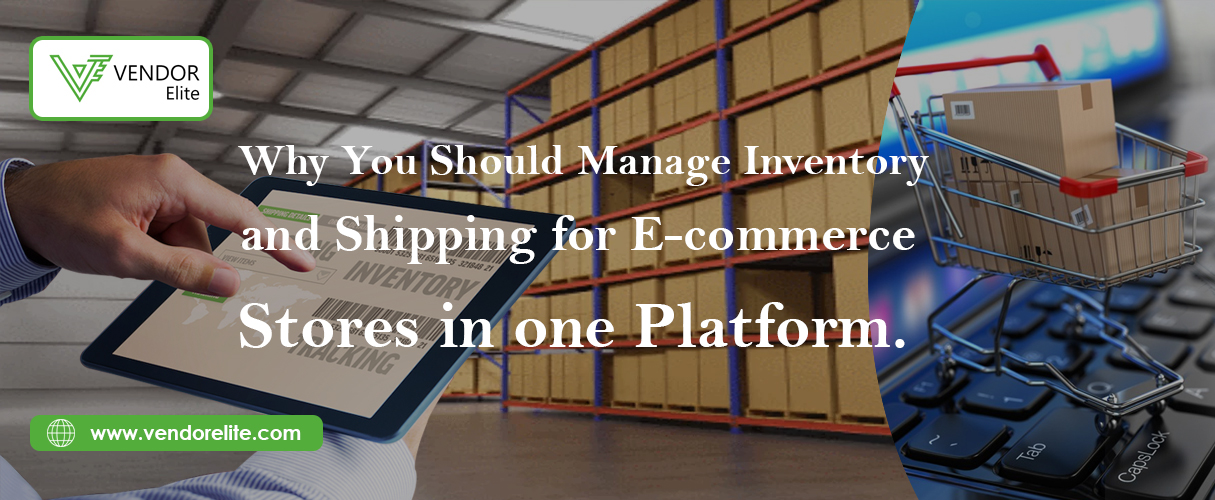 Become a Seller: https://www.vendorelite.com/
Introduction
Think about this: Did you know that about 81% of consumers encounter an 'out-of-stock' situation every year? Not only does this lead to great disappointment on the part of the consumers, but it also results in lost sales for retailers and wholesalers on e-commerce stores. And in worse case scenarios, constantly being out of stock could lead to significant losses and the eventual closure of your store. Yet, this is a simple problem that can be easily solved by proper management of your inventory and shipping.
However, since most e-commerce sellers tend to be very busy in other important aspects of the business, it is easy to forget about inventory and shipping. This is why it is advisable to employ a third-party or use a software to manage these crucial operations for you. And one such software that you can use is the Vendor Elite software.
Consider these 5 ways how using the Vendor Elite software to manage your store's inventory and shipping in one platform can do good for your e-commerce business:
It Saves Time
Managing inventory and shipping, especially in separate platforms, can be very time-consuming. You will need a lot of time to keep track of all the items on order, check on those that are at hand and check if all the records are in place, just to mention a few of the operations involved. When done manually, these activities take up much time, wasting time that would have otherwise been used performing other operations to boost the business.
The Vendor Elite software is designed to help you keep track of your inventory levels and shipping status easily. With this software, you won't have to switch between different systems; something that could cost you a lot of time. And by helping you streamline the processes, not only does the software save you time, but it also enables you to focus on other aspects of your business.
It Improves Accuracy and Consistency
According to market research, most retail businesses have an inventory accuracy of approximately 63%. Such poor inventory tracking may result when the store owner uses multiple or no platforms to keep track of their inventory, and it usually leads to over-stocking. And it goes without saying that the more stock your e-commerce store has, the more labor and costs you will need to hold it in. Besides, overstocking also leads to more mistakes and unfulfilled orders.
Using a single platform for inventory and shipping management, such as the Vendor Elite software, eliminates the chances of errors and inconsistencies that may arise when using multiple systems. This ensures that the right product is delivered to the right customer at the right time, reducing the likelihood of returns or customer dissatisfaction. What's even better, your e-commerce store will gain more agility and optimize on costs.
It Ensures Better Customer Experience
If you are to succeed in the e-commerce space, then you need to ensure that your customers enjoy the best experience when shopping. Yet, poor inventory management may cause your customers to feel dissatisfied or disappointed, such as when they find products out of stock. Also, delayed deliveries may lead to clients registering poor services from you, even leaving you negative reviews and impacting traffic to your online store negatively.
Managing inventory and shipping in one platform allows you to provide a better customer experience. This is because it ensures timely and accurate delivery of products. Customers can track their orders in real-time, and you can provide them with regular updates on their orders, ensuring that they are satisfied with their purchase experience. Further, you can use Vendor Elite to gain valuable insight about what your customers prefer, as well your store's strengths and weaknesses. With such insight, you will be able to provide better service tailored to the individual needs and preferences of your customers.
It is Cost-Effective
As mentioned on point 2 above, poor management of inventory and shipping could lead to over-stocking. And when you have more goods than your store can keep, you will be forced to hire additional storage, which means more costs incurred.  Also, lack of inventory management could mean back orders which only work to drive up costs. And even when using multiple systems to manage your inventory, this can result in increased costs, such as software licensing fees, training costs, and maintenance costs.
On the contrary, using a single software to automate all inventory and shipping operations is very cost-effective. It helps you keep your inventory right on track, such that your consumers always have what they need without forcing you to overstock. It also helps you identify which particular stocks are doing well and which are not, so that you don't waste a lot of holding costs on stocks that only take up self-space with no profits. And by helping you reduce these costs, the single platform enables you to allocate resources to other areas of your business.
It Ensures Streamline Operations and Accurate Analytics
Managing inventory and shipping in one platform also enables you to generate reports and analytics to help you evaluate your business performance. You can track key performance indicators (KPIs) such as order fulfillment time, shipping costs, and inventory turnover. This data can help you identify areas for improvement and make data-driven decisions.
Also, when you use Vendor Elite, you can streamline your operations and reduce the risk of errors. You can automate various aspects of your business, such as order processing and shipping label creation. In turn, this would save you a lot of time and resources.
Conclusion:
E-commerce has become an essential aspect of modern-day business operations. With the rise of online shopping, more and more companies are now venturing into e-commerce to expand their reach and cater to the needs of their customers. However, e-commerce also has its share of problems; and managing inventory and shipping operations is one of the most challenging aspects about it.
Fortunately, it is now possible to manage inventory and shipping in one platform, using the Vendor Elite software. Vendor Elite software will save you a lot of time and resources, improve accuracy and consistency, enhance the customer experience, reduce costs and ensure streamline operations for your e-commerce store. As a result, you will be able to focus more on growing your business and providing your customers with an exceptional purchase experience.