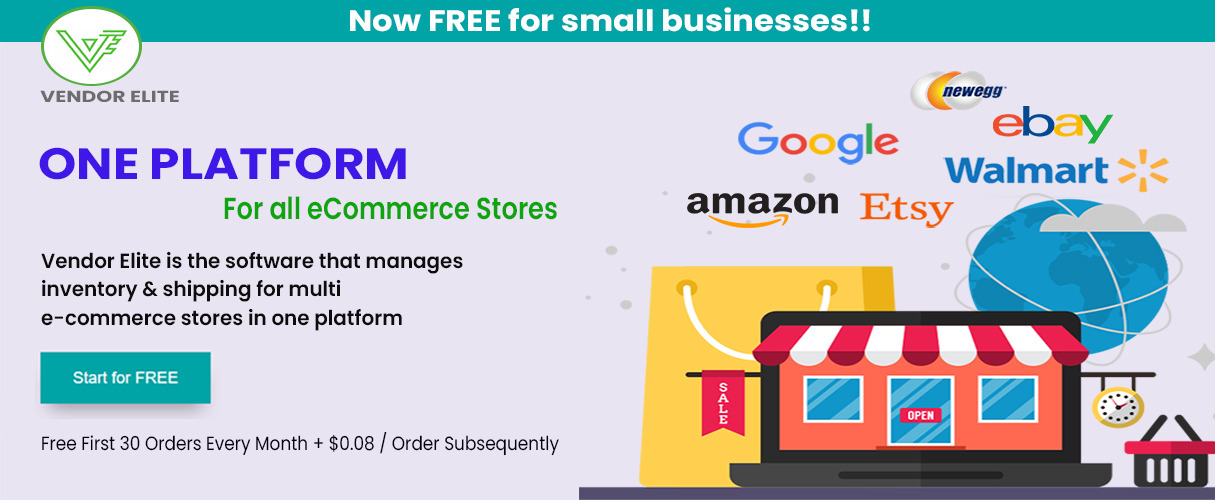 VENDOR ELITE IS THE SOFTWARE THAT MANAGES INVENTORY AND SHIPPING FOR MULTI E-COMMERCE STORES IN ONE PLATFORM
INTRODUCTION
Multi-e-commerce businesses usually face the challenge of managing inventory and shipping with multiple online stores, which can be time-consuming. To cut down on their workload, some merchants use Fulfillment by Amazon (FBA) to store and ship their products. Still, this model doesn't work well for companies that sell products in different categories or want more flexibility than Amazon. A better option for multi-e-commerce businesses is Vendor Elite, the software that manages inventory and shipping for multi-e-commerce stores in one platform.
Running an e-commerce business can be challenging, and managing multiple websites at once can be even more difficult. This is where Vendor Elite comes in handy. As the leading multi-e-commerce management software, it allows users to manage inventory, shipping, and payment processing from one central location.
If you're interested in launching a successful e-commerce business, you know how complicated managing multiple stores on different platforms can be. Vendors like Amazon, eBay, and Etsy don't offer the best user experience when managing your inventory and shipping process—especially when you have more than one account on each platform. The good news is that there's an app with everything you need to operate all your accounts from one place. It's called Vendor Elite.
While any small business can benefit from multi-e-commerce, this type of business is especially useful if you want to run your online store and sell products through other marketplaces like Amazon and eBay simultaneously. Multi-e-commerce helps you sell more products and makes managing your inventory and shipping easier because all of your sales channels share the same information. You'll have less work tracking down orders, and your customers will receive their orders faster than they would if you tried to manage the shipping yourself without this software. Here's everything you need to know about Vendor Elite and how it can help your business grow.
LOOKING FOR A BETTER SOLUTION TO MANAGE YOUR E-COMMERCE STORE?
Are you looking for a better solution to manage your e-commerce store? It is challenging to keep up with managing inventory and shipping, but it's also tough to coordinate sales promotions across all platforms. With Vendor Elite, you get software that manages inventory and shipping with multi-e-commerce stores in one platform.
It works seamlessly with websites like Shopify, WooCommerce, Magento, Big Commerce, Square Space, Xpress Commerce, Zen Cart, and more! We can also set up connections to other shopping carts as well. What's more, we offer reporting tools so you can monitor your company's performance at any time, and we offer excellent customer support, so there is always someone on hand when you need them. Sign up for our free trial today! You'll see first-hand how Vendor Elite will make your life easier.
HOW MUCH DOES IT COST?
There is a simple pricing setup of Free First 30 Orders Every Month + $0.08 / Order Subsequently; this way, when you are not processing many orders, you can have minimal or no costs, and as the business grows, it stays affordable.
WHY SHOULD YOU CHOOSE VENDOR ELITE?
It's no secret that staying on top of things can be tough when you run a business. You've got employees to manage, merchandise to keep in stock, and shipments to send out on time. With Vendor Elite, these things become much easier because it integrates with your various e-commerce platforms, manages inventory for all your storefronts in one place, and simplifies the shipping process. It also handles orders quickly so you can move on to your next task. In addition, if you sell products through Amazon, Vendor Elite will automatically import your sales data into their system so that everything is up-to-date. And if something goes wrong with an order – say there was a delay or something – Vendor Elite has a detailed customer and item log of what happened, which helps you determine what went wrong and how to prevent future delays.
WHAT ARE THE BENEFITS OF USING THIS SOFTWARE?
One of the key benefits of using Vendor Elite is that it's easy to track inventory and shipments with just a few clicks. Managing your inventory with one system simplifies things, so you don't have to do everything separately on multiple platforms. With a vendor elite, it's easier than ever to optimize your store. You can see an in-depth overview of all the products in your store and complete data about your last shipment, current sales trends, expected customer demand, and restocking notifications so you'll never run out of products again! By seeing a clear snapshot of everything in your business at any given time, you'll be able to quickly identify any problem areas or high potentials in no time at all.