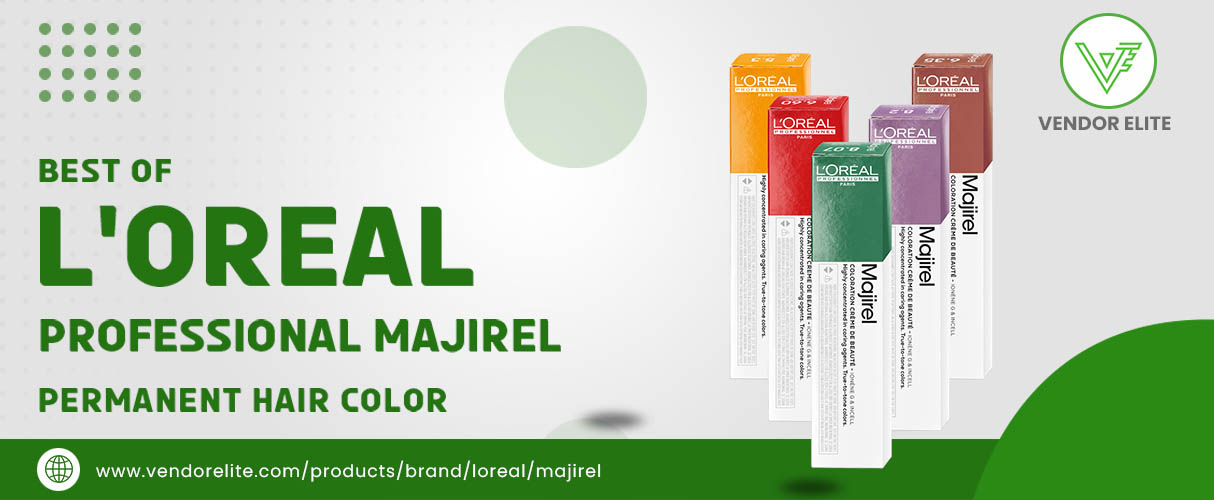 Shop Now: https://www.vendorelite.com/products/brand/loreal/majirel
L'Oréal Professional offers one of the best hair colors. It has an iconic hair color formulation that leaves your hair feeling 45% more conditioned and 30% more protected after the Majirel service. It makes the hair soft, shiny, and beautiful. This is a rich, permanent hair color providing perfect coverage of up to 100% of grey hair. This long-lasting hair dye covers grey hair perfectly while also caring for the hair fiber. In addition, a broad range of rich tones and tints provides brilliant and pure reflected shades.
Why choose Majirel Permanent Hair Color?
Majirel Permanent Hair Color delivers outstanding hair color results. Majirel comes in 10 color families with over 140 shades. This is a rich permanent hair coloring system that provides perfect coverage of grey hair. It creates vibrant and pure reflect colors with a wide palette of rich tones and shades.
Majirel hair color ingredients care for hair fiber. This is enriched with Incell and Ionene G it helps strengthen and reinforce the hair, making hair stronger, glossier, softer, and more supple to the touch.
Ionene G :
Repairs the smoothness of the hair fiber; this exclusive conditioning polymer restores, protects, and continuously conditions the hair.
Incell :
Improves the hair's porosity and shine; this multi-dimensional ceramide strengthens the natural cohesion of the hair for continued long-lasting conditioning results.
Majirel has many different technologies in its portfolio for every client's needs. Lighten with Majiblond Ultra, Majirel High Lift for blondes, and Majilift for brunettes. Increase your shade possibilities and neutralize or increase tone with Majirel Mix. For special red technology with staying power, Majirouge is a perfect choice.
Popular Shades of Majirel Hair Color
This particular range has colors from striking blondes to deep natural tones. Using intensive conditioning agents has always been L'Oréal's practice, and it continues with this range of stunning colors. The popular among them include Golden Brown, Golden Copper Blonde, Copper Mahogany Blonde, Light Ash, Mahogany Brown, Dark Mahogany, Golden Brown, Dark Copper Red Blonde, Deep Dark Brown, Golden Mahogany Brown, Copper Mahogany Brown, and Black.
Benefits of Using Majirel Hair Color
This provides perfect coverage of white hair.
Permanent color. True top tone, long-lasting color results
Can darken and lighten up to 3 levels
Majirel is the iconic professional and permanent hair color with a new pack that is color-coded by reflecting.
It offers the stylist to create limitless color possibilities for every color result.
Attention While Using Hair Colors!
As normal, every hair color has got its toxic effects on hair. While lightening the hair, it needs to be treated first to deposit the new color. Similarly, the over usage of Ammonia can lead to bad results. Asthma patients are likely to be affected by hair colors. During pregnancy time, it's better to avoid the use of hair colors.
Keywords: Vendor Elite, Loreal Professional, Majirel Permanent Hair Color, Majirel hair color, Buy Professional Hair Color, Beauty Supplies, Salon Supplies, Barber and Cosmetologist Supplies, Cosmetics and Hairspray, Hair and Tape in extensions, Dry shampoo and Conditioner, Permanent Dye with Developer, Semi-Permanent Dye with Developer, Creams, Moisturizer, Serum.