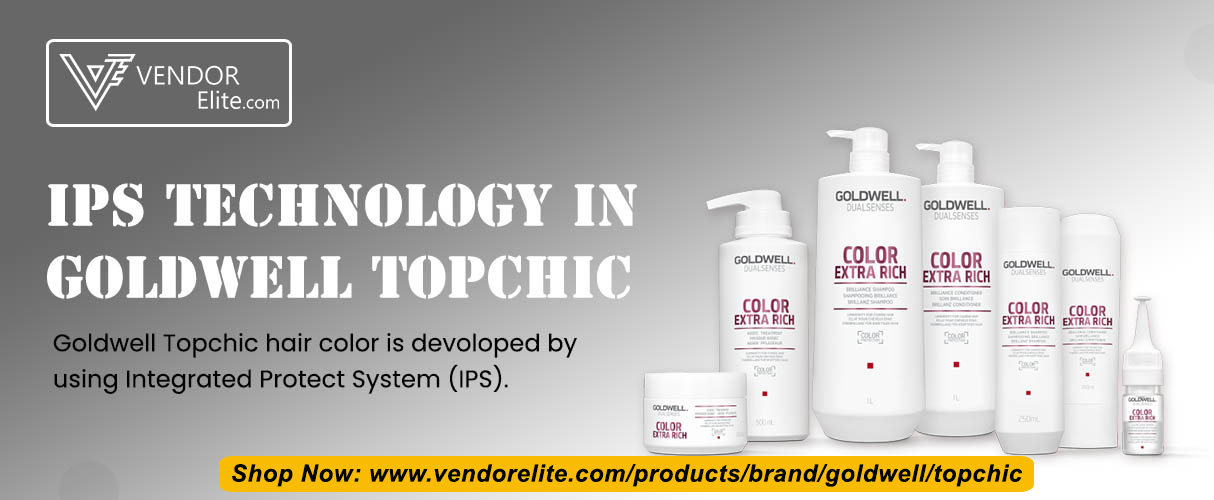 Shop Now: https://www.vendorelite.com/products/brand/goldwell/topchic
Goldwell Topchic hair color is developed by using Integrated Protect System (IPS) – be convinced by the intelligent color system with the latest state of the art formula. Developed over 40 years of experience in professional hair color artistry.
Free Radicals
Coenzyme Technology: The patented Coenzyme Technology intelligently prevents hair from damage by neutralizing free radicals. For extraordinary brilliant color tonality, gentleness and durability.
Equalizer System: The system combines the patented Equalizer Polymer with cuticle smoothening agents. It intelligently equalizes structural differences for excellent evenness from roots to tips.
Patented Intra-Lipid integrated in the Topchic Lotion for an ideal combability and a smooth hair touch.
Goldwell Topchic guarantees intense colors of brilliance in all dimensions. Topchic hair color helps to improve your hair color results by equalizing the color from roots to end of the hair and by smoothening the follicles. So, this Goldwell hair color will give you full coverage of your grey hair without any harsh lines or without making any damage to your hair and scalp.
It has the perfect solution with an iconic and truly intelligent color system. Goldwell Topchic is an ammonia free hair color, as well as being ammonia free many of its products are also oxidant-free and containing strengthening formula that ensures the hair in great condition. Goldwell is not completely chemical-free but it does offer a greatly reduced chemicals. Some of them are 100% PPD. So that it makes a great option for who are allergic to PPD.
Keywords: VendorElite, Schwarzkopf Professional, Schwarzkopf Topchic Professional Hair Color, Topchic hair color, Buy Professional Hair Color, Beauty Supplies, Salon Supplies, Barber and Cosmetologist Supplies, Cosmetics and Hairspray, Hair and Tape in extensions, Dry shampoo and Conditioner, Permanent Dye with Developer, Semi-Permanent Dye with Developer, Creams, Moisturizer, Serum, ECommerce Management Solution, ECommerce Product Management, Best ECommerce Software, Multi-Channel Selling Software, Free Shipping Software, Free Multi-Vendor Software for eCommerce