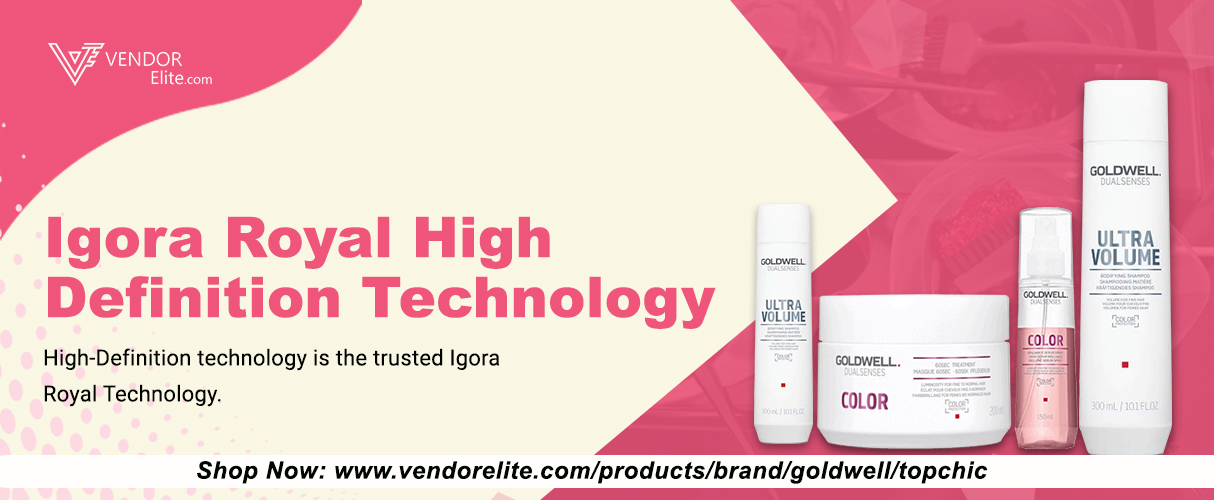 Shop Now: https://www.vendorelite.com/products/brand/goldwell
High-Definition technology is the trusted Igora Royal Technology. Its unchanged iconic formula helps to continuously deliver powerful color performance offering amazing true-to-tuft results and up to 100% coverage. You can always trust the incredible color intensity and performance of Igora Royal.
The Igora Royal High-Definition Technology features a true-to-tuft High-Definition color pigment matrix for clearest tone direction, enhanced true to tuft results, amplified intensity, Taft high and maximum coverage. Lipid carriers amplify the pigment penetration and lock the color by sealing the surface of the hair for long-lasting color retention. The result will give a true color in high definition.
To create a system and for making things simple Igora Royal numbering system can be used. The number in front of the dash (5-) indicates the depth of the shade and tells you the ideal base to choose in order to achieve true-to-tuft results. The first number after the dash represents the primary tone direction (the dominant shade). The second number after the dash indicates the secondary tone direction (the secondary color). It can also use in dual application techniques within Igora Royal portfolio. All IGORA products, including our demi-permanent (IGORA Vibrance), ranges use the same numbering system, so it's easy to work with Dual Application Techniques:
Igora Royal Hair Color Ranges
Igora Royal Core
Igora Royal Highlifts
Igora Royal Fashion Lights
Igora Royal Absolutes
Igora Royal is the reference brand for true color performance. Igora Royal Absolutes offers a wide range of fashion shades, specially formulated for mature hair. Igora Royal Highlifts is formulated for cool blondes, with ultimate lift and neutralization.
Keywords: VendorElite, Igora Royal High-Definition Technology, Schwarzkopf Professional, Schwarzkopf Topchic Professional Hair Color, Topchic hair color, Buy Professional Hair Color, Beauty Supplies, Salon Supplies, Barber and Cosmetologist Supplies, Cosmetics and Hairspray, Hair and Tape in extensions, Dry shampoo and Conditioner, Permanent Dye with Developer, Semi-Permanent Dye with Developer, Creams, Moisturizer, Serum, ECommerce Management Solution, ECommerce Product Management, Best ECommerce Software, Multi-Channel Selling Software, Free Shipping Software, Free Multi-Vendor Software for eCommerce