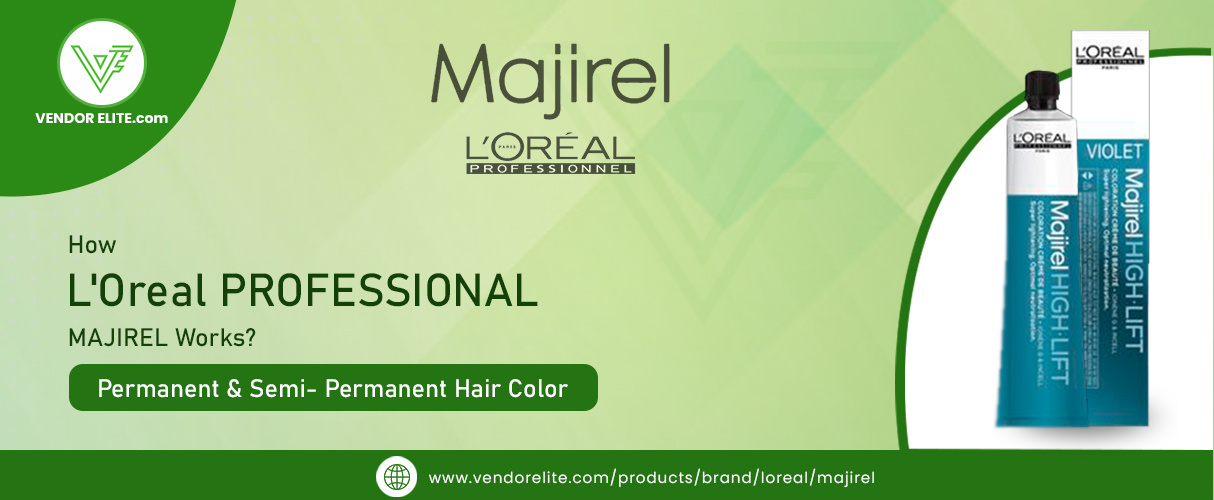 Shop Now: https://www.vendorelite.com/products/brand/loreal/majirel
How Loreal Majirel works?
Majirel is one of the coloring products of Loreal Professional's iconic. This was invented in 1978; it now has six sub-brands having more than 100 shades. The Majirel hair coloring system offers a rich, permanent hair dye that provides perfect coverage of gray hair. Loreal Majirel uses traditional color technology and utilizes ammonia to swell and lift the hair cuticles to allow colorants to penetrate the hair shaft deep into the cortex of the hair. This gives your hair amazing and lasting color.
Hair coloring is one of the most amusing and boosts self-confidence activity. Most permanent hair color uses ammonia which will damage the shaft of the hair. It is also possible that the chemicals in bleaching products may cause scalp irritation in the form of contact dermatitis.
Hair color services usually damage the hair, but in the case of Majirel, as it features Inoene G and Incell technology protects the cortex, cuticle, and surface of the hair from damage. This strengthens and reinforces hair from the inside out. When applied to damaged hair, Ionene G repairs the hair fiber and makes hair smooth, and Incell complex adds hair porosity and shine.
Majirel offers unlimited creativity and optimum coverage of up to 100% white hair with predictable and accurate results every time. 8 products of Majirel are Majirel Hair color, Majirel cool Inforced, Majirel Contrast, Mjirel Cool Cover, Majirel French Browns, Majirel Glow, Majirel High lift, and Majirouge. Hair color is the easiest way to change the appearance; make a change using Loreal Majirel.
Keywords: VendorElite, Loreal Professional, Majirel Permanent Hair Color, Majirel hair color, Buy Professional Hair Color, Beauty Supplies, Salon Supplies, Barber and Cosmetologist Supplies, Cosmetics and Hairspray, Hair and Tape in extensions, Dry shampoo and Conditioner, Permanent Dye with Developer, Semi Permanent Dye with Developer, Creams, Moisturizer, Serum