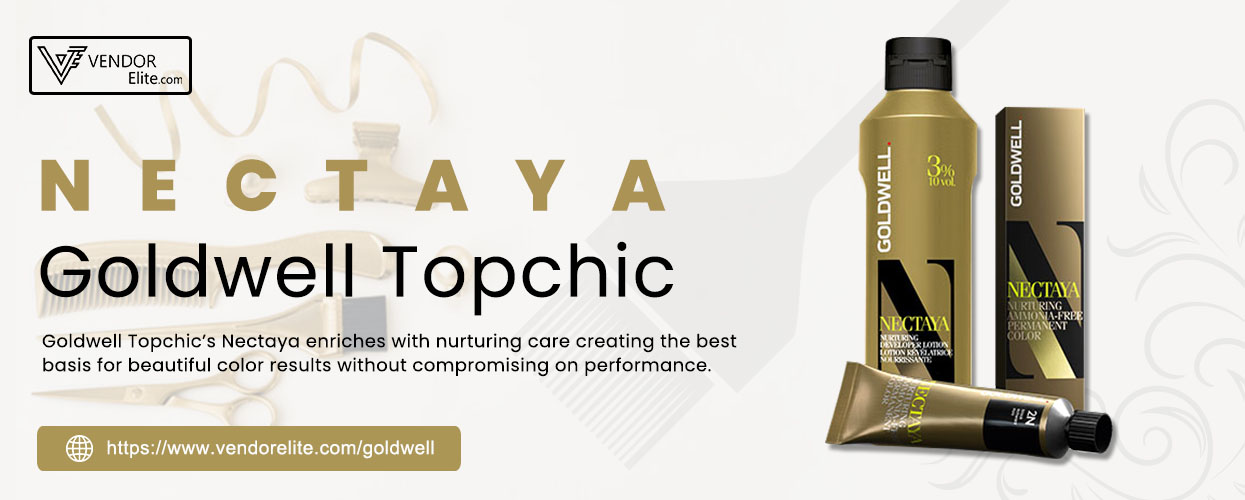 Shop Now: https://www.vendorelite.com/goldwell/
           Goldwell Topchic's Nectaya enriches with nurturing care creating the best basis for beautiful color results without compromising on performance. Nurturing hair color is without ammonia and without ammonia odor. This will give a healthier hair feeling and comfort. This results rich saturated color and natural lively color. This offers optimum gentleness and guaranteed grey coverage up to 100%.
          Goldwell Topchic's Nectaya is suitable for all color services such as regrowth, full head and highlights. All Nectaya shades are intermixable. For the reliable grey coverage, the fashion tones should be mixed with the N/NN/NA-shades.
Technology of Goldwell Topchic's Nectaya
           Nectaya is a permanent hair color with patented nurturing IntraLipid Technology. The caring cosmetic color cream with keratin and silk proteins and without ammonia for natural smoothness, manageability and shine. It is with 100% natural fragrance and up to 91% ingredients of natural origin1 and it is enriched with deep conditioning argan oil. It is specially developed hair color combinations that ensures lively color that results with reliable grey coverage.
          Nectaya has a rich formula available in 3% (10 vol.), 6% (20 vol.), 9% (30 vol.) and 12% (40 vol.) that helps to meet all color needs. The creamy consistency of the hair color makes it easy to apply and pleasant to work with it.
          Nectaya enriched naturals gives natural smoothness, manageability and shine for an incredibly rejuvenated hair feel and offers nurturing care and gentleness. Up to 100% grey/white coverage and natural, lively color results. All Nectaya Enriched Naturals are intermixable.
Keywords: VendorElite, Godwell Professional, Goldwell Topchic SilkLift Control,  Goldwell Topchic Dyes, Goldwell Topchic Pigments, Goldwell Topchic Professional Hair Color, Topchic hair color, Buy Professional Hair Color, Beauty Supplies, Salon Supplies, Barber and Cosmetologist Supplies, Cosmetics and Hairspray, Hair and Tape in extensions, Dry shampoo and Conditioner, Permanent Dye with Developer, Semi Permanent Dye with Developer, Creams, Moisturizer, Serum, ECommerce Management Solution, ECommerce Product Management, Best ECommerce Software, Multi-Channel Selling Software, Free Shipping Software, Free Multi-Vendor Software for eCommerce