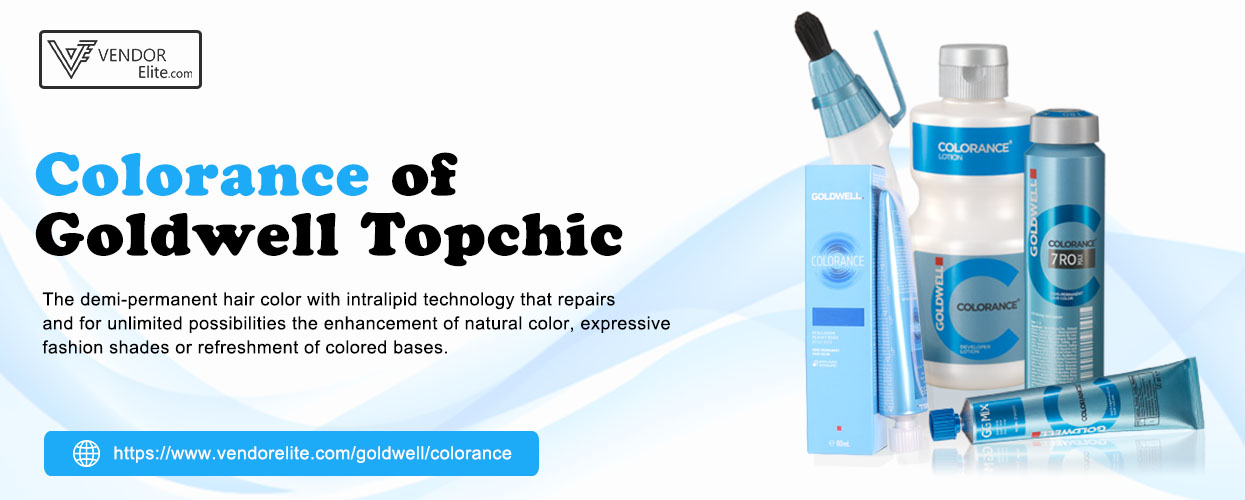 Shop Now: https://www.vendorelite.com/goldwell/colorance
              The demi-permanent hair color with intralipid technology that repairs and for unlimited possibilities the enhancement of natural color, expressive fashion shades or refreshment of colored bases. This provide brilliant shine and smooth hair feel and comfort. This gives an outstanding gentleness to hair without ammonia.
              The technology behind this is, the healthier the hair the more beautiful and shiny color will be the final result. The basis for this is the balanced lipid levels inside the hair. Colorance with IntraLipid Technology is not only protects the hair but also even repairs the hair structure. This technology perfectly colors and repairs in one step: the pH-balanced formula with integrated IntraLipid Technology effectively repairs the hair structure by regenerating up to 70% loss of lipids. IntraLipid Technology is a special lipid patented by Kao for colorance of Goldwell Topchic.
            Colorance of Demi-Permanent hair color gives fresh, lively colors full of intensity and exceptional shine to the hair color. This offers an outstanding coverage and durability and more than 35% improved structure of the hair. This offers a wide range of expressive fashion shades.
Colorance Assortment

:  

 
Colorance
Beautiful, glossy hair full of freshness and liveliness.

New expression for the existing natural tone.

Refreshment of color-treated bases.

N-shades for grey coverage up to 50%
@Elumenated
 Intense color results.

Outstanding multi-shine reflections.

Grey coverage up to 50%
Maxreds
Fascinating, brilliant reds, ranging from warm to cool.

Intensive, vibrant and brilliant reds.

CHROMAX™ technology for highest intensity and reduced color staining.
Mix Shades
Ideal for creative fashion results and color correction.

Can be mixed with other Colorance shades up to 50%.
Pastel Shades
Soft, gradual fading.

Perfect for pre-lightened or bleached hair due to the IntraLipid Technology and pH-balanced technology.
Keywords: VendorElite, Godwell Professional, Goldwell Topchic Colorance, Goldwell Topchic SilkLift Control,  Goldwell Topchic Dyes, Goldwell Topchic Pigments, Goldwell Topchic Professional Hair Color, Topchic hair color, Buy Professional Hair Color, Beauty Supplies, Salon Supplies, Barber and Cosmetologist Supplies, Cosmetics and Hairspray, Hair and Tape in extensions, Dry shampoo and Conditioner, Permanent Dye with Developer, Semi Permanent Dye with Developer, Creams, Moisturizer, Serum, ECommerce Management Solution, ECommerce Product Management, Best ECommerce Software, Multi-Channel Selling Software, Free Shipping Software, Free Multi-Vendor Software for eCommerce