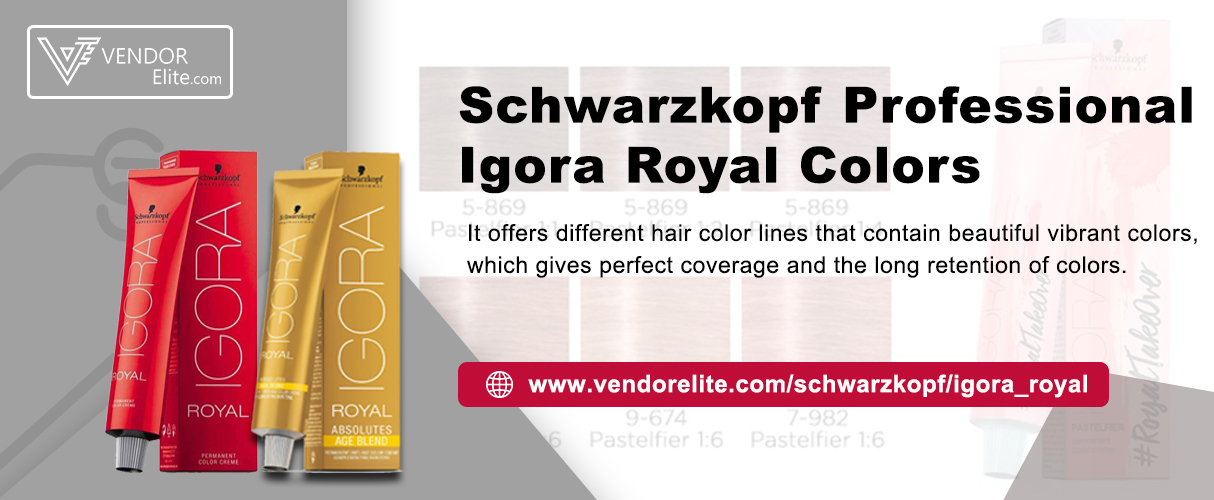 Shop Now: https://www.vendorelite.com/schwarzkopf/igora-royal 
Schwarzkopf Professional Igora Royal offers different hair color lines that contain beautiful vibrant colors, which give perfect coverage and long retention of colors.
Types of Igora Hair Colors:
Schwarzkopf Igora has a wide and large collection of different types of hair colors. Schwarzkopf Igora colors in different lines are
Schwarfkopf Igora Royal

Schwarzkopf Igora Vibrance

Schwarzkopf Igora Royal Nude Tones

Schwarzkopf Igora Royal Absolutes

Schwarzkopf Igora Royal Fashion Lights

Schwarzkopf Igora Royal Highlights

Schwarzkopf Igora Vario Blond Cool Lift

Schwarzkopf Igora Vibrance Gloss and Tone

Schwarzkopf Igora Royal Pearlescene

Schwarzkopf Igora Senea
The Schwarzkopf Igora collection consists of various developers, blonde powder and even a protected cream that protects the skin while coloring the hair. Schwarzkopf Igora has everything for making the coloring of hair beautiful and shining. The Igora Royal is Schwarzkopf's most sold and favourite hair color in the industry.
Schwarzkopf Igora Royal is a permanent hair color that gives 100% gray coverage and it has over 150 different shades that gives the most beautiful hair colors. In Schwarzkopf Igora Royal hair, coloring is oxidation based and hydrogen is used.
Schwarzkopf Igora Royal hair color contains unique Color Energizer technology. This ensures the color is extra intense. It also contains Vitamin C and other nourishing ingredients so that it is in its maximum color and has a stunning shine. Schwarzkopf Igora Royal hair color will remain beautiful for a long time and ensures perfect equalization.
Keywords: VendorElite, Schwarzkopf Igora Royal, Schwarzkopf Igora Vibrance, Schwarzkopf Igora Royal Nude Tones, Schwarzkopf Igora Royal Absolutes, Schwarzkopf Igora Royal Fashion Lights, Schwarzkopf Igora Royal Highlights, Schwarzkopf Igora Vario Blond Cool Lift, Schwarzkopf Igora Vibrance Gloss and Tone, Schwarzkopf Igora Royal Pearlescene, Schwarzkopf Igora Senea, Buy Professional Hair Color, Beauty Supplies, Salon Supplies, Barber and Cosmetologist Supplies, Cosmetics and Hairspray, Hair and Tape in extensions, Dry shampoo and Conditioner, Permanent Dye with Developer, Semi Permanent Dye with Developer, Creams, Moisturizer, Serum