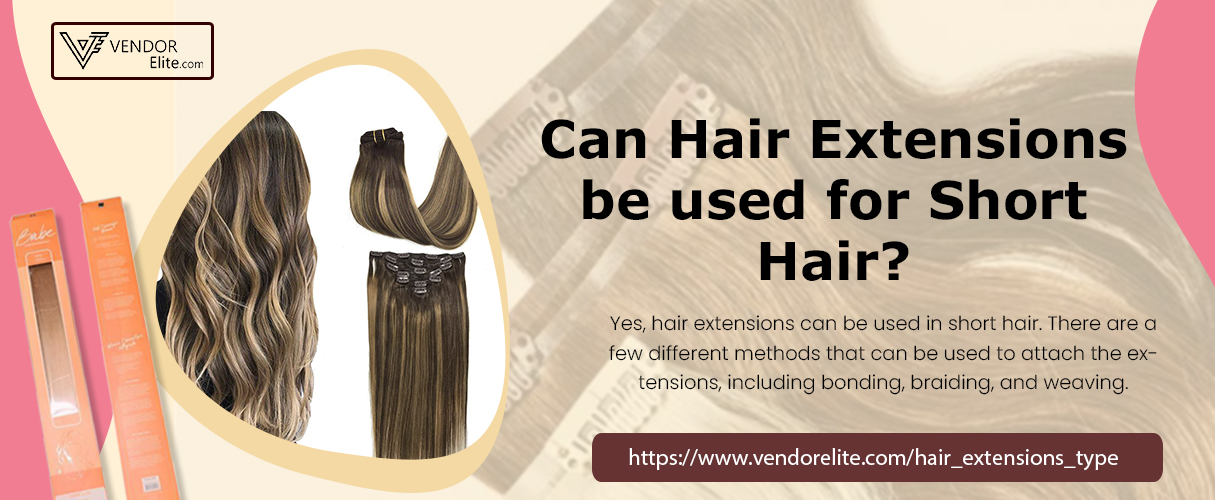 Shop Now: https://www.vendorelite.com/hair_extensions_type
       Yes, Hair extensions can be used in short hair. There are a few different methods that can be used to attach the extensions, including bonding, braiding, and weaving. The type of extension you choose will also affect how well they stay in place and look natural. Hair extensions can give you the illusion of longer, fuller hair, and can be a great way to add volume and length to short hair.
        Selecting hair extensions that work best for you is really hard, but it's important to choose the right type of hair extension for your hair type in order to get the best results. If you have thin or fine hair, for example, you'll want to avoid hair extensions that are too heavy or bulky, as they can weigh down your hair and cause damage. Instead, opt for lighter-weight hair extensions made from fine or ultra-fine hair.
         If you have thick or coarse hair, on the other hand, you can choose just about any type of hair extension without worrying about weight or damage. The only exceptions are very curly hair types, which can benefit from lighter-weight hair extensions to avoid damaging the curls. No matter what type of hair you have, though, it's always best to consult with a professional before making a final decision.
Keywords: VendorElite, Can Hair Extensions be used for Short Hair, Tape-In Hair Extensions Like a Pro, Goldwell Topchic Professional Hair Color, Buy Professional Hair Color, Beauty Supplies, Salon Supplies, Barber and Cosmetologist Supplies, Cosmetics and Hairspray, Hair and Tape in extensions, Dry shampoo and Conditioner, Permanent Dye with Developer, Semi Permanent Dye with Developer, Creams, Moisturizer, Serum, ECommerce Management Solution, ECommerce Product Management, Best ECommerce Software, Multi-Channel Selling Software, Free Shipping Software, Free Multi-Vendor Software for eCommerce