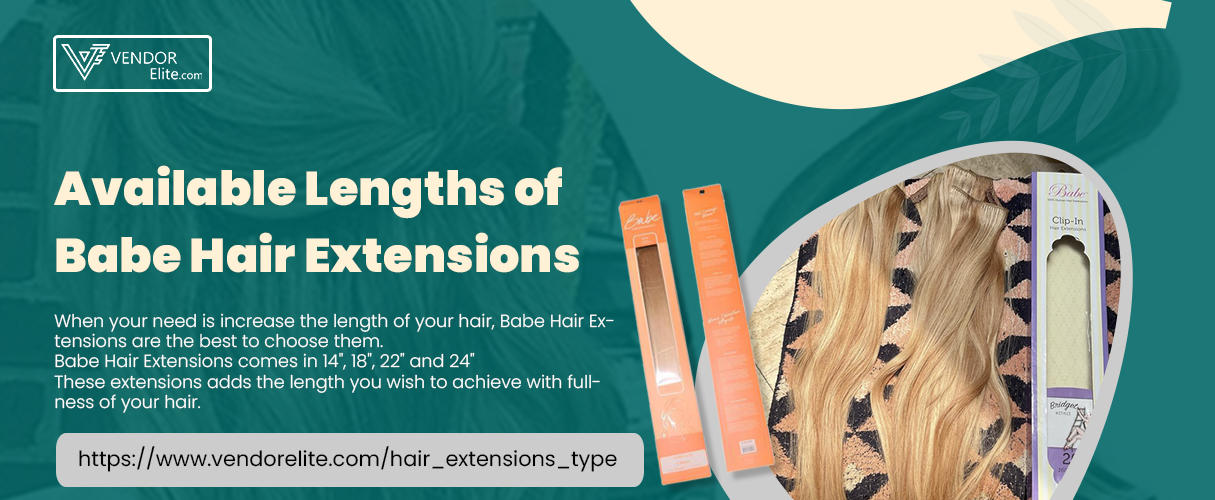 Shop Now:  https://www.vendorelite.com/hair_extensions_type
When your need is increase the length of your hair, Babe Hair Extensions are the best to choose them.
Babe Hair Extensions comes in 14″, 18″, 22″ and 24″
These extensions add the length you wish to achieve with the fullness of your hair.
Usually,
14-inch hair extensions just strike your shoulder blades they are really good for people who love to add some volume to their hair.
18-inch extends a a bit more to the shoulder length. If you a person who wants a bit of length and at the same time add some volume this would be a good option.
22 inch extends to the middle of your back, and yes, it varies according to the height of the person. More or less it will around your hip length.
24 inch extends to your hip area. This would be person option for a very long hair style.
           In order to choose the right length that works better, measure from the middle of your ear and downwards, this will help you to get an idea of the length of hair extensions you wish to get.
As a thumb rule, for extremely short hair we recommend 14″ to 18″, and for medium to long-length hair use 22″ or 24″.
This applies to a person who is short and long.
            Curly hair extensions are usually longer when compared to straight away, as you understand it's for getting the real curls and the bounce. This means if you are using heat tools and other styling products it's likely to extend its length based on how you are styling them.
Keywords: VendorElite, Available Lengths of Babe Hair Extensions, Tape-In Hair Extensions Like a Pro, Goldwell Topchic Professional Hair Color, Beauty Supplies, Salon Supplies, Barber and Cosmetologist Supplies, Cosmetics and Hairspray, Hair and Tape in extensions, Dry shampoo and Conditioner, Permanent Dye with Developer, Semi-Permanent Dye with Developer, Creams, Moisturizer, Serum