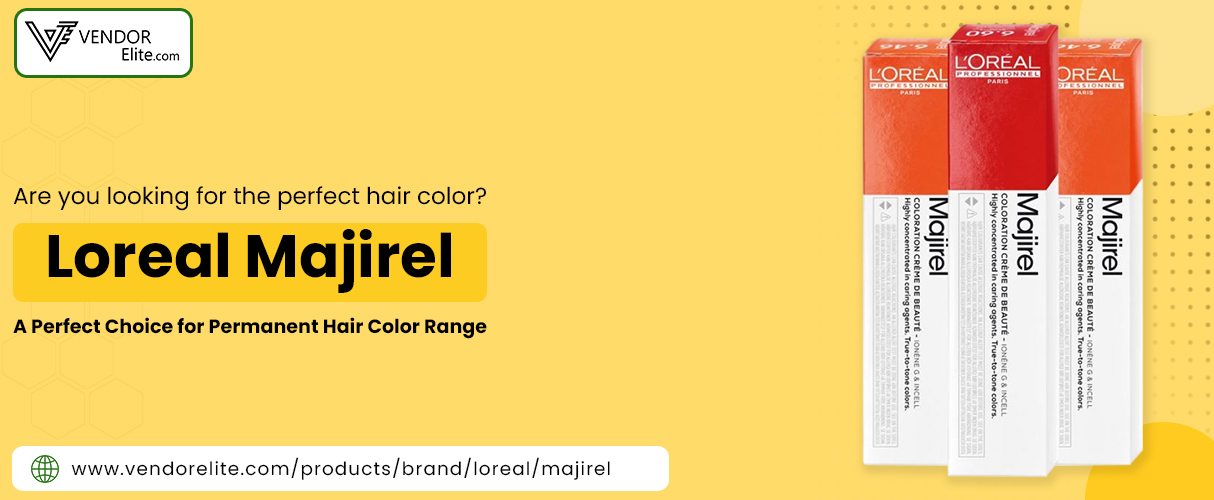 Shop Now : https://www.vendorelite.com/products/brand/loreal/majirel
Loreal Majirel Permanent Hair Color Range
Are you looking for the perfect hair color? Here Loreal Majirel presents various shades of colors. Loreal always strives to bring innovation to its colors. The latest innovation of the Majirel Permanent Hair Color range has colors from striking blondes to deep natural tones. Using intensive conditioning agents is a specialty of Loreal's. Hence it remains in the preferred range of customers. Here is the list of some colors and shades from many colors in the Loreal Majirel Hair Color Range.
Golden Brown
Golden Copper Blonde
Copper Mahogany Blonde
Light Ash, Mahogany Brown
Dark Mahogany, Golden Brown
Dark Copper Red Blonde
Deep Dark Brown
Golden Mahogany Brown
Copper Mahogany Brown
Black
These are some gorgeous deep browns to vibrant blonde shades. Stay on trend with rich hair colors and deep tones of this permanent hair color of the Majirel Hair Color Range. Coloring the hair will therefore increase its strength of the hair. Colors give a coating to the hair, due to which the hair becomes stronger. Permanent hair color can help to build up strong hair from damaged hair. Dying can protect hair from environmental hazards like pollution, excessive heat from the sun, cold temperatures in the winter, etc.
The subtle color of gold and copper makes your hair strong and fashionable and also will increase confidence. Be strong, fashionable, and confident with Loreal Majirel Hair Color Range. It will be a new experience for those who use hair color.
Keywords: VendorElite, Loreal Professional, Majirel Permanent Hair Color, Majirel hair color, Buy Professional Hair Color, Beauty Supplies, Salon Supplies, Barber and Cosmetologist Supplies, Cosmetics and Hairspray, Hair and Tape in extensions, Dry shampoo and Conditioner, Permanent Dye with Developer, Semi Permanent Dye with Developer, Creams, Moisturizer, Serum