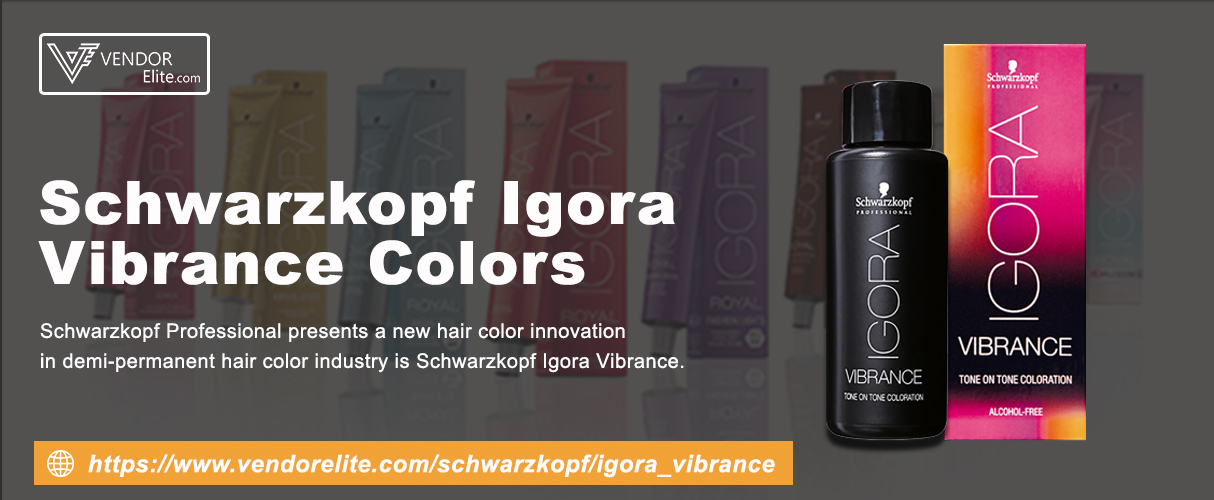 Shop Now: https://www.vendorelite.com/schwarzkopf/igora_vibrance
          Schwarzkopf Professional presents a new hair color innovation in the demi-permanent hair color industry is Schwarzkopf Igora Vibrance. Hair color has been at the heart of Schwarzkopf Professional for over 50 years as the Schwarzkopf team has recently launched their new moisturizing hair color range Igora Vibrance
          Igora Vibrance is the first ammonia-free tone-on-tone color that will not fade, evolving with time and treating alcohol-free to a refreshed new tone after each wash. Igora Vibrance is perfect for you because it offers fresh and intense colors with more than 70% shine. It includes 68 shades with moisture protecting complex with AQUAXYL to stabilize hair moisture during its development process. This is alcohol free with 40% less alkalizing agent to protect against breakage and it lasts up to 25 washes.
This advanced demi-permanent hair color is derived from a liquid formula that can turn into a gel or a cream that can offer
More Performance: Up to 100% more INSTA shine and increased hair protection for treated hair.

More Convenience:

The new liquid formula with a 1-to-1 mixing ratio allows for an easier formulation, faster mixing, and more efficient application of color.
More Versatility: The liquid demi-permanent color allows you to choose between a gel or a creamy consistency for a quick application with gel, and a precise application with cream.

More Choice:

 A full range of demi-permanent color services are available including clear glossing, color correction, pastel toning, and more.
 Schwarzkopf Professional Igora Vibrance can do a great job of restoring it to its glory."
Keywords: VendorElite, Schwarzkopf Igora Royal, Schwarzkopf Igora Vibrance, Schwarzkopf Igora Royal Nude Tones, Schwarzkopf Igora Royal Absolutes, Schwarzkopf Igora Royal Fashion Lights, Schwarzkopf Igora Royal Highlights, Schwarzkopf Igora Vario Blond Cool Lift, Schwarzkopf Igora Vibrance Gloss and Tone, Schwarzkopf Igora Royal Pearlescene, Schwarzkopf Igora Senea, Buy Professional Hair Color, Beauty Supplies, Salon Supplies, Barber and Cosmetologist Supplies, Cosmetics and Hairspray, Hair and Tape in extensions, Dry shampoo and Conditioner, Permanent Dye with Developer, Semi Permanent Dye with Developer, Creams, Moisturizer, Serum, ECommerce Management Solution, ECommerce Product Management, Best ECommerce Software, Multi-Channel Selling Software, Free Shipping Software, Free Multi-Vendor Software for eCommerce